Medications to treat erectile dysfunction almost exclusively require a prescription. The names you probably already know – Viagra, Cialis, Levitra – all require a doctor's diagnosis. Effective over-the-counter or retail options just don't exist - or at least not safe ones.
Rex MD is here to help guys get these effective medications are reasonable prices and from the comfort of home. But some men aren't ready to make the leap to prescription medications.
The one clearly effective and easy-to-order OTC product out there? Penis pumps.
Penis Pump Basics
Penis pumps (called vacuum pumps or vacuum erection devices in the medical world) increase blood flow to your penis to help you achieve an erection strong enough for sex. They're easier to buy or order – and sometimes cheaper – than prescription medications (though that's changing with telehealth companies like Rex MD). They can also be used in conjunction ED medications like Cialis or Viagra, and some couples even use them as a sexual enhancer/toy.
One thing penis pumps can't do? Make your penis bigger. Contrary to some commentary on the internet, penis pumps are designed to help you get an erection, but they won't have long-lasting effects on the size of your manhood.
Regulators at the U.S. FDA consider vacuum pumps a "penile rigidity device" along with constriction rings (penis rings) and penile splints.
How Do Penis Pumps Work?
Penis pumps work by creating negative pressure to draw blood into the penis, increase blood flow, and expand the tissues. As air or water is drawn out of the vacuum tube, all parts of the penis expand to fill this vacant space. Increased blood flow is, of course, the basis for how erections work, and the same way by which prescription medications do their job.
A penis pump has two main components: a generally cylindrical vacuum tube (where the action happens) and a pump. The vacuum tube is placed over the flaccid penis and the user applies a vacuum device (manual or electric) to produce an erection. Some pumps are operated with a manual squeeze ball or hand pump, or have a battery operated pump built in. Once the user has an erection, they remove the pump and, for some guys, a constriction ring is put in place at the base of the penis to help keep the blood in the penis and maintain the erection.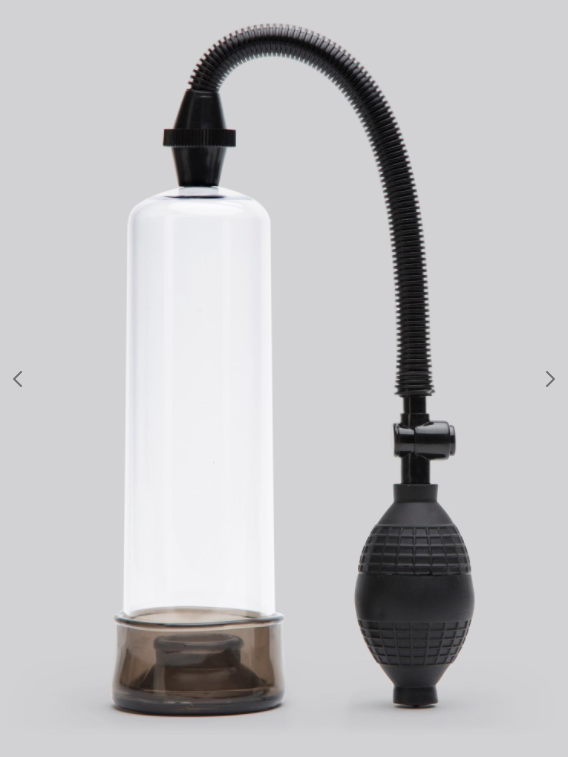 The process doesn't take that long and is relatively benign so long as one has a willing and understanding partner. In fact, penis pumps can be part of foreplay and are even used by men without ED for some atypical stimulation.
How long does the penis pump effect last? An erection from a penis pump typically lasts around 30 minutes, but this varies based on the user. And unlike ED medications, they can usually be used safely for a new erection more than once a day.
Are Penis Pumps Really Effective?
Vacuum pumps have been around since before the popular ED medications you're probably familiar with. Viagra was approved by the FDA in 1998, and research on penis pumps goes back much further than that.
With so much time on the market, it shouldn't be a surprise that penis pumps work for most men.
A 2020 study of older guys and their partners who tried a vacuum pump device found that over 96% of them endorsed the ability to maintain an erection with the device, and 100% indicated they would recommend the device to others. Here's the kicker: their female partners generally rated sex as better with the device! Penis pumps, when done right, are good for everyone involved.
An older researcher paper indicates the same, claiming penis pumps effective in up to 90% of patients.
A key to success with penis pumps is proper education beforehand. Researchers have found that patients need to understand the right way to use these devices, and that education can go a long way in terms of satisfaction. If you're trying a penis pump on your own, without a physician's guidance, make sure you've read the instructions fully and understand what to expect.
What To Look For In A Penis Pump
While penis pumps can be really effective, there are a variety of types and some safety concerns with penis pumps that you should understand.
Penis Pump Safety
First off, one of the most important things to look for in a penis pump is a quick-release safety mechanism. This is a small switch through which you can rapidly let the air out of the pressure device, for quick removal. Some penis pumps also have a vacuum limiter so that it never builds up too much negative pressure. Over-pressurizing a penis pump can result in dangerous medical issues, like priapism or bleeding under the surface of the skin. Most vacuum pumps are designed to draw a vacuum of less than 17 inches of mercury.
Some penis pumps will recommend the use of a constriction ring at the base of the penis to help keep blood in the penis during a vacuum-induced erection. Never leave a constriction ring on for more than 30 minutes.
Look for devices that made with skin-friendly materials, too, like those that are phthalate and BPA-free.

Penis Pump Varieties
Penis pumps are available in a wide array of styles and functionality. The simplest are air pumps that use a manual hand-squeeze vacuum process. More elaborate devices employ an automated battery-operated pump, and some require water for the vacuum process.
Air Pumps are the easiest to use and most affordable, generally speaking. They use air to create a vacuum inside the device, helping to pull blood into the penis. They come in manually operated systems as well as battery operated with simple push-to-pump functions.
Water pumps require water within the vacuum tube, which manufacturers claim creates a more uniform and pleasurable sensation inside the cylinder. They're typically more expensive than air models, and due to the need for water, can be messy and a little more time consuming the prepare. It may be best to use a water pump in the bathtub or shower.
Additionally, penis pumps come with all sorts of improvements to make things a little more pleasurable, including gentle heat and vibration capabilities.
Best Penis Pumps to Buy Online
When it comes to the best penis pump to order online, Bathmate's Hydro line of penis pumps and Osbon's Erecaid pumps have both been used extensively for years and are popular with men of all ages.
Whether erectile dysfunction is a new issue for you or you've been dealing with symptoms for years, prescription medications or penis pumps are both considerations for most guys.
Rex MD can help. With licensed clinicians, free online consultations, free delivery, and discreet packaging, it's never been easier to get ED meds online, if approved. Click here to get started today.