Cialis vs Cialis Daily: What's the Difference?
September 28, 2020
Wouldn't it be great if you didn't have to take your ED med right before intimacy? Cialis® Daily (tadalafil) is the only erectile dysfunction (ED) medication that's intended to be taken once daily in order to prepare your body for intimacy at any time.
But it can be confusing understanding the differences in Cialis® Daily dosage vs Cialis® used on-demand. Let's clear up the confusion.
Quick Facts About Cialis®
Cialis® (tadalafil) is a PDE5 inhibitor like Viagra® (sildenafil). They work by the same mechanism in the body and are the two most popular ED meds by volume.
Cialis® (tadalafil) comes in 5 mg, 10 mg, and 20 mg doses for on-demand use (prior to sexual intimacy).
Cialis® (tadalafil) also comes in 2.5 mg and 5 mg doses to be taken once daily (Cialis® Daily) without worrying about timing of sexual activity.
All doses of Cialis® and generic tadalafil are available affordably and easily from Rex MD.
Cialis® Doses
Cialis® is the brand name for tadalafil, the third PDE5 inhibitor approved by the FDA after Viagra (sildenafil) and Levitra (vardenafil). All three are now available as generic drugs for cheaper than ever before, and both are effective for most men with ED.
Cialis® is available in a wide variety of doses – and not all are to be used the same.
Cialis® comes in 5 mg, 10 mg, and 20 mg doses for use directly before sexual intimacy. Eli Lilly reports that Cialis 20 mg has been shown to improve the ability of men with ED to have a single successful intercourse attempt for up to 36 hours after dosing. Cialis® also comes in 2.5mg and 5mg doses to be taken once every day, essentially priming your system for sexual intimacy at any time.
Because of this, daily Cialis® has become a popular option for men with ED who may have frequent sex or simply don't want to worry about taking a medication before intimacy.
The FDA-approved Cialis® prescribing label demonstrates these differences: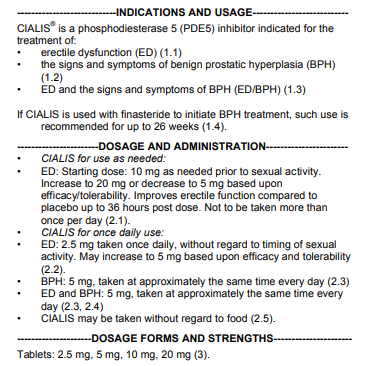 The History of Cialis®
Cialis® was first approved for the treatment of ED in 2003, five years after Viagra's® landmark approval in 1998 as the first medication for ED, and about two months after Levitra® (vardenafil).
Five years later, in 2008, the FDA approved Cialis® for daily use in new dosage forms: 2.5 mg and 5 mg. According to Eli Lilly, the drugmaker behind Cialis®, once-daily Cialis® may be "most appropriate for men with ED who anticipate more frequent sexual activity (e.g. twice weekly)."
Cialis® obtained "blockbuster status" in 2005 when it reached $1 billion USD in worldwide sales, and then went on to generate $2 billion in one year globally a few years later.

How Much Does Daily Cialis® Cost?
Cialis®, Cialis® Daily, and tadalafil in all 4 doses are available affordably through Rex MD. We carry all major FDA-approved ED meds at industry-beating prices.
With Rex MD, you can get daily Cialis® for as low as $3/dose, and our system is set up for simplicity: medications prescribed through our online visit process 9if approved), delivered discreetly with 2-day free shipping, and refilled each month with no hassle.
---
Back to list
---
---
---
---